HOW TO LIVE STREAM AVAILABLE VIDEOS ON YOUTUBE
YouTube is a popular social network today with a large number of users. YouTube brings numerous benefits to businesses or individuals. Moreover, livestream is a "storming" form in the past few years. Technology is increasingly developing, the form of livestream is not only using a phone or a live camera, but also has an available video streaming feature. So how does this pre-recorded video live stream work? Let's find out in today's article.
The benefits of Youtube livestream
High quality Livestream
Live streaming videos on Youtube are highly appreciated in terms of quality including sound and image. This is clearly understandable, because compared to Facebook and Twitter which are pure Social Networking platforms about sharing information in the form of text and photos, Youtube was created by publishers for the main purpose of serving as a platform for video storage, playback and viewing, ensuring both entertainment and professionalism. With this advantage, if you choose to post videos on YouTube, you will be sure to expand your customer base, even potential customers will spend longer time on your video, thereby increasing their impression of the product and motivate them to familiarize, have a strong attachment to it and decide to purchase.
High search efficiency
Youtube is a huge library of videos around the world. This social network allows us to search all videos from different sources, all over the world, without limits. When users search on Youtube, they will see your videos related to the topics they are looking for, so the ability to be searched when streaming on Youtube will be great.
Earn money from Youtube
Making money is one of the factors that help attract many users today. Note that you can only go live on Youtube when your Channel has enough subscribers. The more views the business has, the more money it makes, and also increases the coverage of the business' brand or service. Livestreaming on YouTube is much easier and it helps businesses get a high customer conversion rate from this form.
Why should you broadcast live from an available video?
Currently, technology and livestream software have developed strongly, not only using a phone or camera to record directly, but also having function to livestream with an available video. Streaming from available videos will help you:
Have good quality livestream video: You have time to prepare and edit the video to be the most beautiful and attractive to customers.
Reach more customers: From the available video, you will easily re-broadcast it on other platforms like Facebook, Twitter.
Close orders quickly and accurately: When you stream for sales from an available video, you will know which viewers are interacting, commenting and wanting to buy your products. From there, you get the necessary information and make an order for the customer, which will become easier and faster than the usual live livestream.
Is there any software that can help you do this? That answer is GoStream. GoStream is a software that makes it easy to do the above, next let's learn how to stream available videos with livestream software right away.
How to live stream an available video using GoStream software
GoStream - platform helps you optimize your livestream. Stream live in many destianations at the same time: Facebook, Youtube, e-commerce sites like Tiki, Lazada, Shopee. Using pre-rendered videos for playback like a livestream helps you save time and effort. To use the livestream platform, you need to log in or register if you do not have an account.
Sign up for an account
You go to the domain GoStream.co, on the menu bar you select "SIGN UP FREE". And fill in the information according to the instructions.
Log in
After successful registration, you proceed to login. Note, before you broadcast the livestream you need to connect your livestream account to your social network accounts, here we link your Youtube account
After you have successfully logged in and linked your accounts, let's proceed with the steps to live stream with available videos.
Step 1: Create a live stream on Youtube
- Go to Youtube and select Create → Go Live
- You pay attention to box number 1 and number 2 to perform the next steps
- Edit title, Description and Visibility in box 3.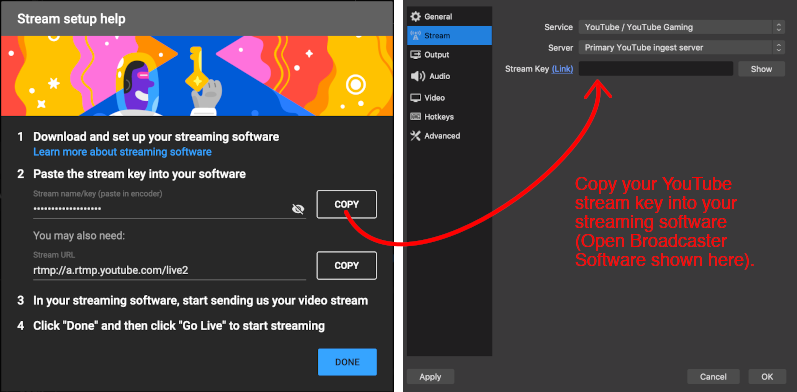 Step 2: Broadcast available videos with GoStream software
Step 2.1: Choose the source of the video
Option bar on the left → Select "Automatic livestream" item. Here will appear the next 2 options that are "Uploading file" and "From pre-recorded video".
In "From pre-recorded video" item: You can paste video links from Youtube or Facebook. After pasting the link in the box to add a video, press the Enter button.
In "Upload file" item: You can choose any new video that hasn't appeared on any platform yet. After you upload the video, you copy the link in the CODE column, this is your video link. Go back to the "From pre-recorded video" option and paste the link in the "Add video" box (Link copied in the column CODE) and press the "ENTER" button.
After the video has finished loading, you can change the Subject or use the old Subject.
Step 2.2: Configure
Configure Video Livestream with the following options:
- In the Loop option: Allows creating video loops on your livestream. Selecting No loop means that when the video finishes playing, it will stop. Select Infinite Loop to play again and again until the livestream time expires (depending on the subscription plan, you can stream the livestream with the maximum duration).
- In the Resolution option: you can choose 480p, 720p, 1080p depending on your subscription plan. For livestream playing on Youtube, the appropriate resolution is 720p. This is the average rate to ensure stability when livestream.
- Insert text: You fill in the text and configure the size and location for Subtitle.
- Insert image: You can add brand name, logo into livestream.
After completing the configuration, click "Next".
Step 2.3: Choose where to post
- Posting time: With options such as Post now, Post later, Frequency help you adjust the livestream time accurately and in detail.
At the destination option, you can choose Profile, Youtube, Fanpage, or e-commerce platforms like Tiki, Lazada, Shopee. To post on Youtube you choose the destination to post is Youtube.
Please add a Title and Caption → Click "Add" to finish choosing destination.
You can select label "My Livestream" in the left status bar, the system will display all the livestreams created in the last 10 days.
For each livestream in the list, you can review information such as created time and status. In addition, you can work with 2 actions Copy source and Duplicate.
Copy source means create a new livestream with the same content and title as the selected livestream. You can customize the specifications like creating a normal livestream, then choose a new broadcast time and location.
Duplicate means that the system will immediately play a livestream with the same content and settings with the livestream you selected.
Through the sharing, you must have understood why Youtube is the platform chosen by many people to live stream available videos and its benefits. Besides, we have detailed instructions on how to livestream an available video when using GoStream software on Youtube. Sign up for the FREE GoStream account to experience now, you will be satisfied immediately.